Peter J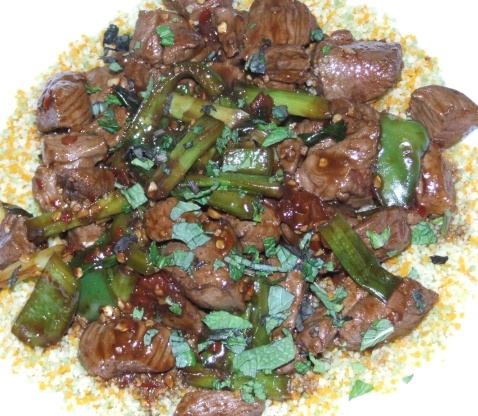 This is from a weight watchers recipe book. Its 5 points. It is really good if you like lamb... so... yeah...

This was enjoyable although something about the lamb / pepper / mint combination didn't quite hit it off 100% with me. My partner really enjoyed it so I thought 4/5 was a happy medium. The only thing I changed was using only green bell peppers, although that would have only affected the appearance not the flavor too much.
In a small bowl mix the soy sauce and honey.
Heat a large nonstick wok or skillet over high heat.
Add the oil and lamb; stir fry until the lamb loses its red color, 1-2 minutes.
With a slotted spoon, transfer to a plate.
Reduce heat slightly.
Add the bell peppers; stir fry until slightly softened, about 4 minutes.
Add scallions, garlic, gingerroot, orange zest, pepper flakes, and soy sauce mixture; stir fry 30 seconds longer.
Return lamb to wok.
Add the broth and pepper; stir fry 30 seconds longer.
Serve, sprinkled with the mint.