ImPat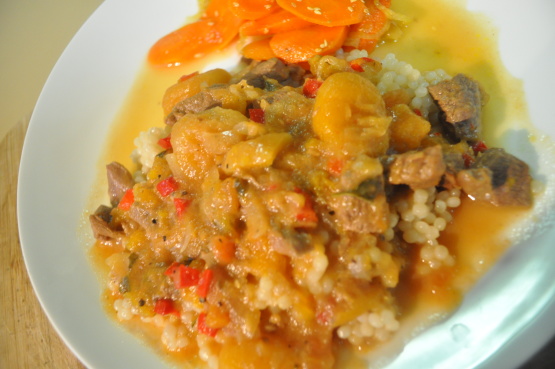 I love lamb with fruit. This is meltingly tender and really tasty.

Top Review by ImPat
A simple wholesome lamb stew with a little sweetness thrown in and oh so easy to make. The only change I made was I used basil in place of the mint as we don't really care for mint and used a red capsicum as the DM would be picking out a green one and I used extra apricots as it seemed a waste to leave them in them in the packet so close to use by date so chopped them up. Had no problem with liquid cooking off, actually in the last half hour left the lid partly off to reduce the liquid and still had plenty left (cooked at what I call a burble, just seeing little bubbles coming up as you cook). Served over pearl couscous cooked in lamb stock (stock defrosted from frozen) and with a side of recipe #424463. Thank you Jan for a recipe that took so little time in the prep and just a matter of keeping an eye on it as it burbled away on the stove, made for Make My Recipe - Christmas Edition.
4

ripe tomatoes, blanched and peeled

2

tablespoons oil

1

green capsicum, seeded and finely chopped

1

large onion, finely chopped

2

tablespoons of fresh mint, chopped

1

kg lamb, cubes cut from the leg or shoulder
2⁄3 cup dried apricot
salt & freshly ground black pepper
Heat half the oil in a large heavy based saucepan, add tomato capsicum, onion and mint and saute 5 minutes.
Remove from pan.
Heat the remaining oil, add the lamb pieces, stir quickly to brown on all sides.
Return the vegetables to the pan, add the apricots and enough water to almost cover the meat.
Bring to the boil, turn down the heat and cover and simmer for 1 hour.
After the hour, season with salt and pepper.
Check liquid content and add more if needed.
Simmer 1 hour more until lamb is very tender.
Serve with steamed or boiled rice, or couscous.