" Laings" English Pickled Onions (Copycat)
BarbryT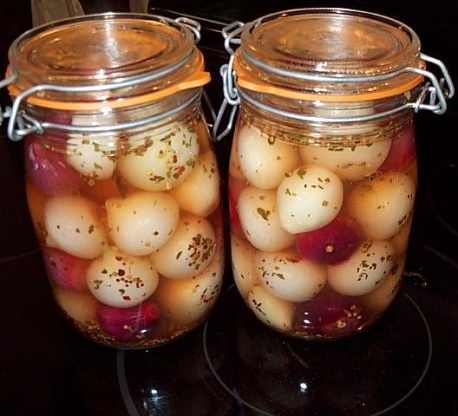 If your British, you've been subjected to this tart and delicious English condiment. This is an exact match for the store bought version. Don't pass this recipe up because it looks too simple. It's an exact copy of "Laings" Pickled Onions.

I have made this recipe, only that I tweaked it a bit by adding a very small sugarspoons worth of sweet pickle spices, to offset the sour taste a bit. My hubby said it was too sour. I gave one away already, and the reply was Yummy.
5

lbs yellow cooking onions (golf ball size)
store bought premixed pickling spices (any brand)
Peel and rinse onions under cold water and fill 1Ltr (1 Qt.) sterilized pickle jars as full as possible.
To each jar, add 2 tbs of pickling spice mix.
Add white vinegar to fill each jar.
Seal tightly, leave at room temperature for 7-10 days. Give jars a shake to stir up spices once a day.
After 7 days, taste test the pickles. If the center of the onion tastes like a pickle, with little or no onion taste, You're done -- Refrigerate jars to stop pickling process.
Lasts for 3-4 months in fridge. Liquid may become slightly murky over time but pickles are fine. They'll likely be all gone before then.