Lagkage Danish Layer Cake
ellinrep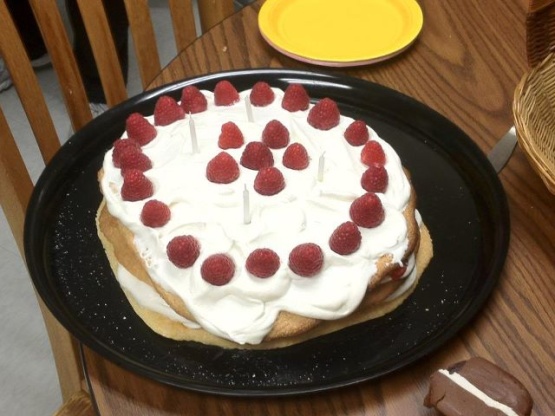 You can use your choice of fillings for each layer , such as almond paste; pie filling; or a mixture of raisins, nuts, cinnamon and sugar.

Tusind tak, Karen! I cannot begin to describe how excited I am that I finally found THE recipe. I have made up to 10 different kinds of layer cakes from Danish websites but they were not 'it'; this one is! Exactly like my grandmother used to make it. I made 3 layers and used 8 inch forms which means that my layers were a bit higher. Only change was that I added the vanilla before the whipped egg whites. I layered the cake with 300 g raspberry mashed with 5 tbsp sugar and whipping cream in the order; cake>raspberry>whipping cream and ending with whipping cream on top; shaved some chocolate on top to make it look even prettier. My mom is here visiting from Denmark and I served it for her birthday yesterday! I am so thrilled that I finally have this recipe. Thank you SO MUCH!
Beat the four egg yolks until lemon colored.
Add water and sugar and beat two minutes. Mix and sift the flour, cornstarch, baking powder and salt.
Add to the egg yolk mixture. Beat well. Beat the egg whites until stiff and fold into the yolk and flour mixture.
Add vanilla.
Bake in four ungreased (or use a little oil) nine-inch cake pans (round or square), in a quick, hot oven preheated to 450ºF for 10 minutes.
Fill with an assortment of fillings. Top with whipped cream.