Lady MoM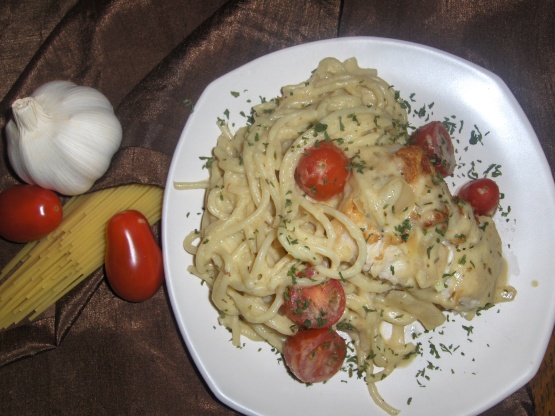 Its a knock off of Olive Garden's Tuscany Chicken; I always wanted to make it and so I tried it out. I had to improvise just a little, but when it was made my husband could not stop raving about it! YUMMY!

i didn't care for this, didn't think it had much flavor, but my husband liked it. won't make it again
Place chicken in flour and brown in oil 5 minute or so each side. Place in a preheated oven at 425°F; cook until no longer pink.
Meanwhile in the pan that had chicken, sauté onion, add garlic once onion is clear.
Add water, oxo and spices. Cook 2-4 minutes.
Add cream.
With cold milk whisk in flour, add to mixture. Bring to a soft boil stirring often.
Add parmesan and stir till mixed throughly. turn off heat, add tomatoes immediately and cover with lid.
While this is simmering, check on meat and rinse noodle's if not already done. Push ingredients to the side of sauce pan, place noodles in pan one serving at a time and let noodles be covered with sauce. Place on plate, add chicken and garnish!
ENJOY, its so good!