Lady Grapefruit (--Tasty Dish--)
COOKGIRl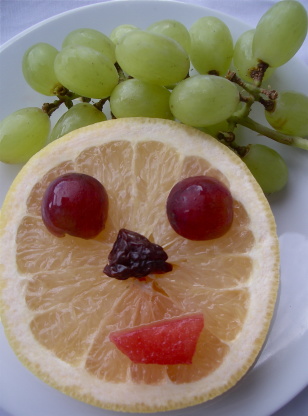 I found this idea off the website FamilyFun!

What a great idea!I made it first and then I let DD make it herself. Hopefully,you can guess from the picture who did what. I had no cherries so I used a raisin for the nose.DDs actually asked me to cut the fruit for them to eat it,so it wasn't just decorative. My daughters are eating fruit,but they never asked themselves to cut it for them.If it was there they would eat it ,but never ask for it.This motivated me to look for more recipes like this one and to get into decorating the food for kids. Thank so much for sharing.
Cut the grapefruit in half. Then cut off a small slice on the bottom near the stem to make the grapefruit lie flat on a plate.
Eyes: Cut both grapes in half and place on the grapefruit.
Nose: Add the cherry between the two grape halves.
Mouth: Place the apple slice (or other fruit of choice) underneath the cherry where the mouth would be.
Hair: Place the grape cluster on the top of the grapefruit where the hair would be.
Eat! Yummy!