scancan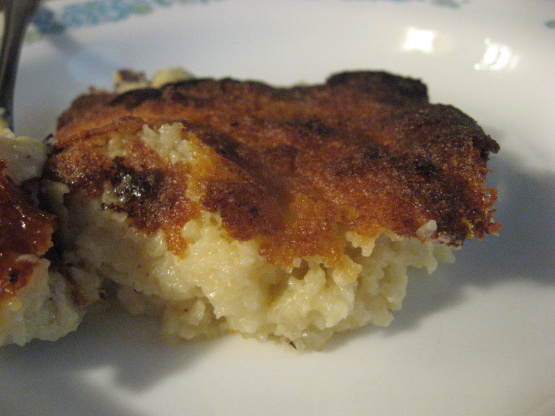 I have been eating potato kugel all my life - take it from me, this one is the absolute best. It's from the "Kosher Palette Cookbook" it is crispy on the outside and creamy and, well, 'lacy' on the inside. It freezes very well so I usually double the recipe. Enjoy!

This recipe is taken word for word from "Kosher by Design," a great cookbook by Susie Fishbein. It's really not right to post things without giving credit. It IS a great recipe, as are all the recipes I've tried from this cookbook. EDITOR'S NOTE: Recipe description updated 4/30/04
Preheat oven to 500 degrees.
Saute diced onion until nicely caramelized and golden.
While onion is caramelizing, grate potatoes using the fine (smallest holes) disc in the food processor.
Squeeze out liquid and place in a large mixing bowl.
Process onions (don't change the blade) and pour the onion pulp and juices into the bowl with the potatoes.
Stir in eggs, 5 tbsp. oil, salt, pepper and caramelized onions.
Sprinkle starch on top.
Pour boiling water over starch and stir thoroughly.
Pour 1/4 cup of oil into a 9x13 baking pan and heat in oven for about a minute. Do not allow oil to burn.
Carefully pour mixture into pan and bake for 20 minutes.
After 20 minutes, reduce heat to 400 degrees and bake for 40 minutes or until the top is a deep golden brown.