kbaljon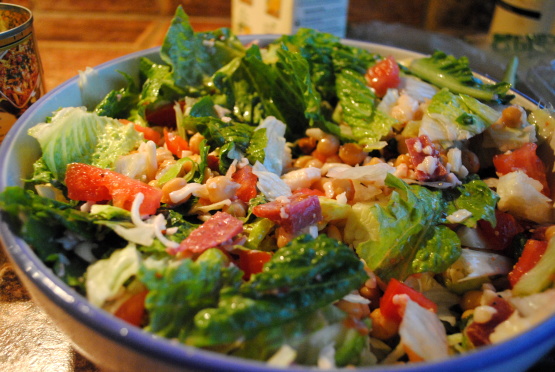 This is supposed to be the original chopped salad recipe, created by the owner of the La Scala restaurant in Los Angeles in the 1950's. I think it sounds pretty tasty, 50 years later!
I have the original Leon salad recipe from LaScala. This is the correct recipe and and ingredients. My recipe doesn't mention adding a chopped tomato, though. It does say you can add the chopped basil and is optional. I love it now as much as I ever have!! In fact I just served it recently at a luncheon and people loved it and several asked for the recipe!
To make vinaigrette: combine oil, vinegar, mustard, and salt and pepper to taste; whisk until well blended. Set aside.
In a large bowl, combine lettuces, salami, mozzarella, and garbanzo beans. Toss with vinaigrette to taste.
Garnish with tomato and basil if desired.