La Salade Cote Cap Verte ( Chopped Egg Salad)
Brenda.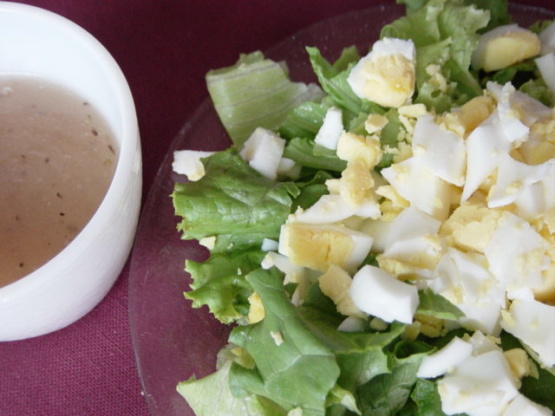 The influence of French food in Senegal is unmistakable, yet Senegalese food has a quality of its own, with dishes from many other parts of the world and other parts of Africa incorporated into the cuisine. This Senegalese dish may be used either as an appetizer or as a salad. Posted for ZWT 2006

DH & I are NY resolved to limit sweet treats & eat lighter. He often eats his main meal at work & I am left to my own devices, so I went in search of a tasty salad & found this among your recipes. The simple ingredients & ease of prep make this salad an excellent choice. While I made the salad for 1, I did make a full recipe of the dressing. I used the olive oil option, halved the vinegar amt (DH prefers a lighter vinegar flavour as opposed to a stronger one), randomly sprinkled dried herbs from my spice rack (not sure which or how much) & esp liked the honey flavour. Like the prior reviewer, I think this dressing will be good on other salads. I enjoyed your salad w/Recipe #191883 by Mainely Debbie. Thx for posting this recipe for us SQ.
Arrange greens in mounds on 6- to 7-inch salad plates.
Sprinkle eggs heavily over the mound of greens.
Combine dressing ingredients in a jar& shake thoroughly.
Serve dressing separately.