Kymartin6's Jalapeno Poppers
Nimz1466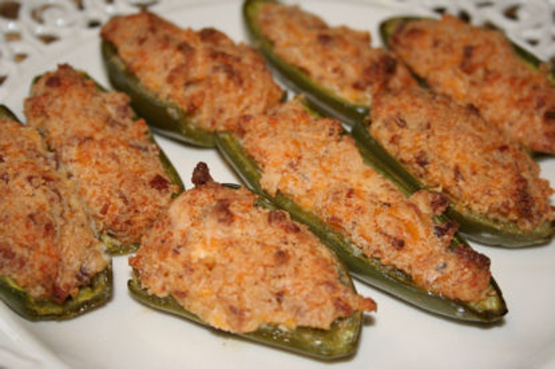 This recipe has become a legend on several Nascar message boards. It's the perfect game day/race day snack but you might not want to wait that long. ;) If you don't like jalapeños use the mild Anaheim peppers. If you don't like any kind of pepper, try the bacon-cheese mixture on English muffins or small rounds of pizza dough. I'm posting it with the originator's permission and including several of the variations different people have come up with. You can't mess this one up. To quote Kymartin6 himself, "IF IT AIN'T SIMPLE AND FOOLPROOF--I DON'T COOK IT!"
Arrange the jalapeño halves on a large cookie sheet.
Mix the remaining ingredients thoroughly. This is best done with a food processor but if, like me, you don't have one a fork and plenty of elbow grease will do the job.
Pack the cheese mixture into the jalapeño halves so that it rounds up a bit.
If you're lucky the size of the jalapeños and the amount of the cheese will work out right. If not you either have some jalapeños to use for something else (Recipe #243399 or Recipe #250732 perhaps), or you have bacon-cheese mix to spread on crackers.
Bake at 350°F for 30-35 minutes.
Enjoy hot, lukewarm, cold, or briefly rewarmed in the microwave.
Reputedly, they are excellent with beer. I don't like beer so I can't say. However, if you like beer you can consider that expert advice. ;) :D LOL.
Variations include substituting mozzarella for the sharp cheddar, substituting cracker crumbs or crushed potato chips for the bread crumbs, and drastically reducing the amount of bread crumbs for a lower-carb option.