Kuwaiti Curried Chicken (Quwarmah Ala Dajaj)
Coasty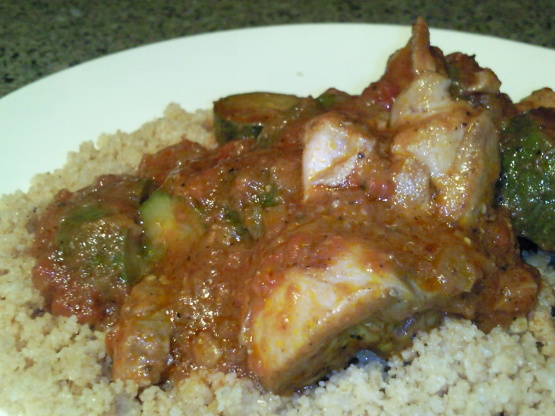 A definite 5 stars. This is very good. I sometimes add okra (bamia). I serve it with Traditional Bahraini Muhammar - Sweet Rice Dish and a fresh salad for a great meal masha Allah. Modified from the Gulf States section of The Complete Middle East Cookbook by Tess Mallos.

Top Review by umisa
This has been a regular in my house for quite some time mashaAllaah. DH LOVES this!!! I'm making it right now, but this time I added about a teaspoon of your iraqi curry powder (#442889) along with the other spices. It smells a-maz-ing! I can't wait until dinner!
Rinse and wipe chicken pieces dry and sprinkle with salt.
Combine baharat and turmeric and rub half onto chicken pieces. Leave for 15 minutes.
Heat olive oil and brown chicken pieces on each side. Remove to plate.
Add onion and fry gently until transparent.
Add garlic, ginger, remaining spice mixture, and cinnamon bark to the onion and fry for 5 minutes stirring often.
Add tomato sauce, water, salt to taste, and loomi pierced twice with a skewer or loomi powder. Bring to a high simmer.
Add chicken pieces and okra if using, reduce heat to low and simmer very gently for 1 1/2 hours until chicken is tender and sauce is thick.
Serve hot with Recipe #79179 or other basmati rice dish and salad.
Enjoy!