Kusa Mihshi - Stuffed Lebanese Squash / Cucuzza / Koosa
Brad 007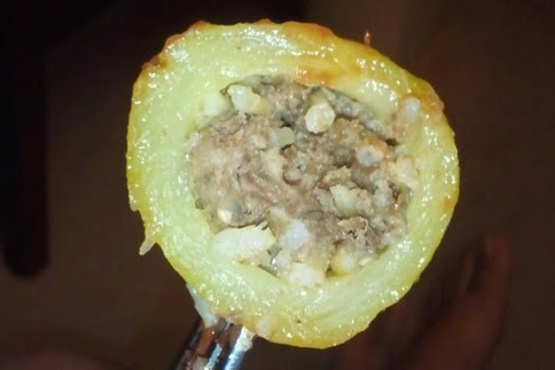 Kusa - AKA Lebanese Squash / Zucchini / Courgette, Cucuzza. This is a recipe for a quick & simple version of the traditional stuffed Kusa dish.

This was a pretty good recipe. I didn't have mint so I left it out. I think it could have used a bit more salt, but I used crushed tomatoes instead of tomato sauce so that may be why. I recommend visiting a Middle eastern market and picking up a zucchini corer.
Preheat oven to 350ºF.
Hollow out each zucchini using a zucchini / apple corer or small, flexible paring knife, leaving 1/8-inch-thick walls.
Combine lamb, rice, 1 1/4 teaspoons marjoram, 3/4 teaspoon cumin, 1/2 teaspoon mint, 1/8 teaspoon allspice, salt and cayenne in a medium bowl. Loosely stuff each zucchini with the lamb mixture. Place the stuffed zucchini in a 9-by-13-inch baking pan.
Combine tomato sauce with the remaining 1/2 teaspoon marjoram, 1/2 teaspoon cumin, 3/4 teaspoon mint and 1/8 teaspoon allspice in a medium saucepan. Bring to a boil then pour over the zucchini. Cover the pan with foil.
Bake, turning the zucchini halfway through cooking, until the zucchini and rice are tender and the filling reaches 165ºF on an instant-read thermometer, 40 to 50 minutes. Serve the zucchini with the sauce.