Shasha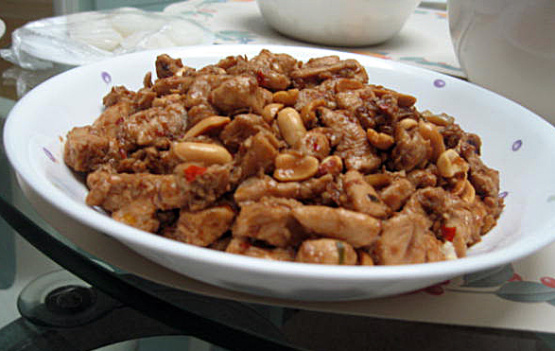 Sesame oil really adds to this Kung Pao Chicken recipe. Not for the faint of heart!

This was so tasty! I added carrots, green peppers, and watercress to the recipe and it made it so much nicer. Served with brown rice was a hit! Next time I will add more chili paste as it could have been hotter.
In a small bowl, combine chicken with egg white and 3 teaspoons of the cornstarch, toss to coat.
In another bowl, blend chili paste, soy sauce, sherry, vinegar, broth, 1 teaspoon cornstarch, and sesame oil. Set sauce aside.
Heat oil in a wok or large frying pan over medium-high heat. Add chicken and stir fry until it separates and turns white, about 4 minutes. Remove with a slotted spoon and drain on paper towel.
Fry the peanuts in the oil over medium heat until they are golden brown, about 3 minutes. (You may need to add a bit more oil). Remove and drain.
Remove all but 2 tablespoons oil from the pan, stir fry onions, garlic and hot pepper for 30 seconds. Add chicken, and stir fry over high heat 1 minute.
Add the sauce, stir fry until heated through and thickened. Add peanuts and stir.