gemini08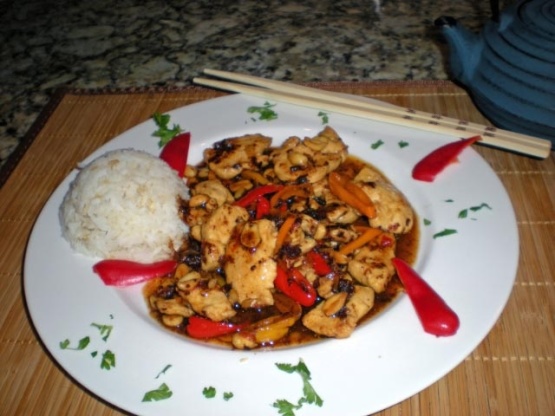 This recipe is from Kylie Kwong's "My China" cookbook and is absolutely delicious! A mouth-watering combination of fried chicken cubes, chiles and peanuts dressed with soy sauce and black vinegar."Gong Bao Jiding" in chinese, is named after 19th century Szechuanese Governor.The original recipe uses chicken thighs, I substituted with chicken breast.

This was so good with a great blend of flavors. I did make a few changes just based on need. Didin't know what shaoxing wine was so just used a dry white, also didn't know what "back" rice vineger was so just used regular. Didn't have red chilies so used fresh jalapenos. But don't think these changes made a huge differance. The blend of flavors was spicy but oh so good. I served over steamed white rice. Made for PAC Fall 2011
Combine chicken with cornstarch and wine in a bowl. Cover, place in refrigerator and leave to marinate for one hour.
Place 2 tbs oil and chiles in a cold wok and THEN turn the heat to low. Cook for about 1 1/2 minutes or until chiles begin to darken slightly. Using a slotted spoon, immediately remove chiles and drain on kitchen paper towel.
Leaving the chile-infused oil in the wok, turn heat up to high and stir-fry half of the chicken cubes for 3 minutes.
Remove with slotted spoon. Add the rest of the oil to the wok with the remaining chicken and stir-fry for 3 minutes. Return all chicken to wok, along with the ginger and reserved chiles and stir-fry for 30 seconds.
Add sugar and stir-fry for 30 seconds. Add peanuts, soy sauce and vinegar and stir-fry for another 30 seconds. Serve immediately with Szechuan salt and pepper.