Kumquat's Panzanella (Bread and Tomato Salad)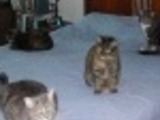 My version. There are others posted. I find this salad incredibly tasty. If you'd like to try it there is one VERY important caveat - do not stint on the quality of your ingredients. (Garbage in garbage out.) Some of the ingredients are available year round, but only prepare this if you know you can get tomatoes at their very best. Most panzanella recipes call for some oil but I prefer to omit it. Serve as side dish for four or main meal for two. This is a classic Italian recipe.
Directions
Put diced red onion in a small bowl and cover with water. (This removes some of the oniony taste.) The longer you soak it the milder it will become.
If bread is not day old, slice and place on cookie sheet in preheated 400 degree oven for about 10-12 minutes. Remove and let cool slightly.
Meanwhile, prepare and place all ingredients other than the bread and onion in a large bowl and mix.
Tear bread into bite size pieces, drain onions and add to tomato mix. Combine well. Adjust the seasonings to taste and serve.
Most Helpful
unfortunately i was out of olives and wine vinegar. i used a good extra splash of balsamic and olive oil instead and had to use garlic powder but this turned out lovely all the same. like a big bowl full of bruccetta! i used toasted stale brown bread, which was fine, and added a bit of dill. this would lend itself well to variations, will make often!
I can't believe that I waited this long to make this! Ready in a snap, simple, tasty ingredients and relatively healthy. I omitted the onion and made the mistake of doubling the dressing when it seemed like it wasn't enough to coat the bread- big mistake so next time I'll stick to the recipe :-) I added some shredded rotisserie chicken too!
This was fabulous! And very easy. I omitted the olives and used white cheddar. I also included the olive oil. This made a fabulous side dish and will be made frequently in the summertime!