Kumquat's Kookin' Kaboodles' Limone Pistachio Gelato
Pneuma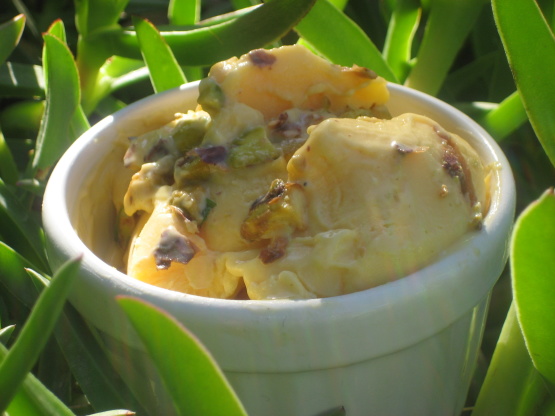 Posted for the ZWT4-- Frozen Italian Dessert Challenge-- Part 1, this is an unusual and unique gelato recipe with some ingredients that are not necessarily traditional. Although lemon and pistachio are typical of fine Italian cuisine by their Mediterranean character, the ingredients take a curve ball by using both buttermilk and lemon yogurt to give both a solid base and a nice tartness to accentuate the lemon flavor. The Splenda was made as an option to accomodate those with special dietary needs,and the egg yolks and heavy cream, while not traditional, provide richness and act as a stabilzer for this yummy frozen dessert.

Top Review by Pneuma
Wow! I already know how to make a gelato! I used the Muller brand (this is a great one too if not better) since we didn't have the Dannon then I followed recipe as is except that I didn't use an ice cream maker. I chilled it then froze it. When I took it out, I waited for 3 minutes before scooping it out and boy, they were creamy! Yeah the texture's perfect and much better than other ice creams that get watery when melted. The taste is sooo good too! It has a sweet lemony taste and the addition of pistachios really upped the flavors! I guess it helped that when doing the first steps, the mixture should be really thick before taking it out as stated in the procedure. Thanks! Made for WZT4.
Whisk together the buttermilk, cream, yogurt and 3/4 cup Splenda granular in a mixing bowl until smooth.
Take one cup of milk mixture and place in another bowl. To this add egg yolks, one at a time, whisking well after each addition.
Pour the other 3 cups or so of the milk mixture into a saucepan and whisk in the lemon zest and juice as well as the remaining 3/4 cup Splenda granular. Heat over low heat, stirring constantly, until mixture just begins to boil. Remove from heat and allow to cool for five minutes.
Take one cup of the heated milk mixture and add it gradually to the egg mixture in small amounts, whisking constantly.
Return egg mixture to heated mixture in saucepan gradually, whisking constantly.
Heat custard mixture over low heat until mixture becomes thick but not quite boiling. Remove from heat and allow to cool.
Pour custard into a suitable covered container and refrigerate overnight.
The next day, pour mixture into prepared and ready ice cream maker and follow your machines instructions.
Add 1 cups chopped pistachios as gelato thickens.
Allow to firm up further in the freezer for several hours until firm as you like.