Marni-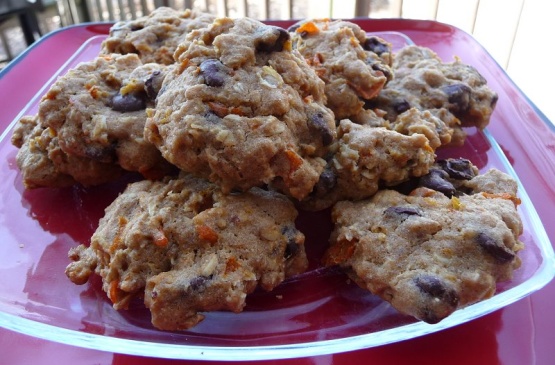 I had a lot of kumquats to use up so I thought how about kumquat cookies? I love chocolate and orange together and kumquats are even better because their rind bakes up like chewy candy! I hope you like them!
This only gets two stars because the idea of kumquat cookies is great. You can tell when you mix these up that they have too much flour, not enough shortening, leavening or sugar. I don't care if a cookie is really sweet, but it needs to taste like a cookie instead of a cross between a powder biscuit and a muffin, and it doesn't have enough shortening for either of those either. Take your favorite chocolate chip or oatmeal cookie recipe and add kumquats.
Preheat oven to 375 degrees F.
Cream butter and sugar together in a large bowl.
Add eggs and vanilla and mix well.
In another bowl, mix together flour, baking soda, and salt.
Add flour mix, little by little, to butter mix until all is blended together.
Stir in the oats and the kumquats.
Stir in the chocolate chips.
Drop by large teaspoon onto an ungreased cookie sheet.
Bake for 10-12 minutes or until golden brown.