Kumera Wedges With a Honey Mustard Dip
ImPat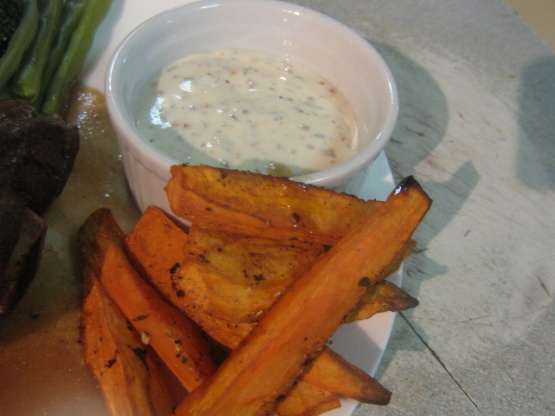 Serve the wedges with the mustard dip or good ole sour cream and sweet chili sauce , if you prefer. As a variation you can use other root veges to make some wedges- potato, carrots, parsnip. For a gluten-free diet ensure your seasonings/spices and yogurt are suitable

Top Review by ImPat
The DS. DM and I enjoyed this very much tonight with recipe #383255 and steamed vegetables (from 1k of sweet potato I ended up with 750g of wedges [had a bad bit in one potato]). For us I would halve the sauce amount though and I used sweet basil as herb of choice (have a ton of it in the garden) and hmm well sent the DH out for plain greek yoghurt and he comes back with vanilla flavoured greek yoghurt and I used 3 teaspoons of a honey infused grain mustard so did not add the extra honey (which was more friendly to the DM's and mine blood sugar levels) and had to use lime juice only as that was all I had (in the freezer) - my apologies for not making more truer to recipe but that is life but still well worth making and will be making again with half the amount of the dipping sauce though. Thank you **Jubes** , made for Healthy Choices ABC Tag - Come Play.
Preheat the oven to 200°C.
Peel the kumera. Cut in half lenghways and then slice into thick wedges. Set aside.
Using a large bowl-mix the remaining wedges ingredients. Add the kumera wedges and coat evenly.
Place the wedges on roasting trays in a single layer Bake aprrox 40 minutes. CHeck whilst cooking and turn over a few times. Cook until browned and tender through.
Prepare the dip while the wedges are cooking- mix the mustart and honey. Add all remaining ingredients and mix well to combine.
Serve slightly cooled wedges with the dip. Sprinkle over some extra chopped herbs as garnish. Season with salt to taste.