Kumara (Sweet Potato) Dampers
Katzen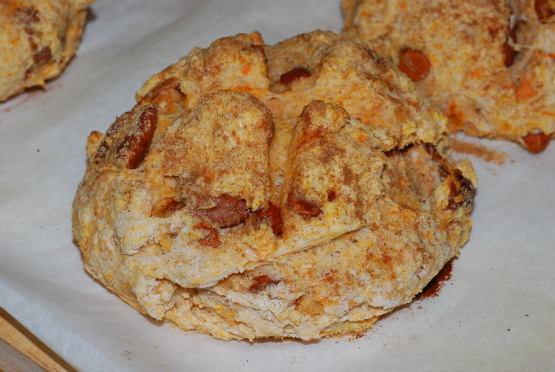 From the Australian Women's Weekly Gluten-free and Allergy-free cookbook. Haven't tried so times are as per recipe in cookbook. After first two reviews I have changed the cooking times, hopefully they will reflect the right timing.

Top Review by Katzen
So delicous!! These gorgeously crunchy on the outside and melt in your mouth soft on the inside dampers are just wonderful! Loula's comment about making a sweet version got me thinking, and I made just that for breakfast this morning. I started off with two small sweet potatoes, which I microwaved for 5 minutes, then let cool. After negotiations with my parrots, who apparently love sweet potato, I ended up with exactly 1/2 cup of mashed sweet potato. I added 1 tsp of vanilla, 1 tsp of cinnamon, 1 tbsp of maple syrup, and 1/4 cup each of cinnamon chips and pecans. I sprinkled the tops with maple sugar and cinnamon. This recipe is very accomodating to changes, and I was so delighted that DH, who I wasn't sure would think sweet potatoes for breakfast was a good idea, loved them! Thanks, Pat, for posting such a fantastic recipe! Oh - I should note I use regular self-rising flour, rather than the GF. I can't wait to try these with WW flour and oatmeal! Made for Zaar Stars Tag.
1 2⁄3 cups gluten-free self-raising flour (225 grams)

1

teaspoon caster sugar
1⁄4 teaspoon salt

20

g butter
1⁄2 cup kumara (cooked, cold and mashed finely)
1⁄2 cup buttermilk (125ml)

2

tablespoons water (approximately)

2

teaspoons milk (approximately)

2

teaspoons gluten-free self-raising flour (extra)
Preheat oven to 220C/200C fan forced.
Oil a flat baking/cookie tray/sheet.
Sift dry ingredient into a large bowl and rub in the butter till you have a fine breadcrumb consistency.
Add the kumara, buttermilk and enough of the water to mix to a soft sticky dough and then transfer dough to a floured surface and knead until smooth.
Divide dough into 4 equal portions.
Roll each portion into rounds and placed on oiled tray.
Cut a cross through the top of the dough about 5mm deep.
Brush tops with milk and then dust with extra flour.
Bake dampers for about 20 to 25 minutes.