Brenda.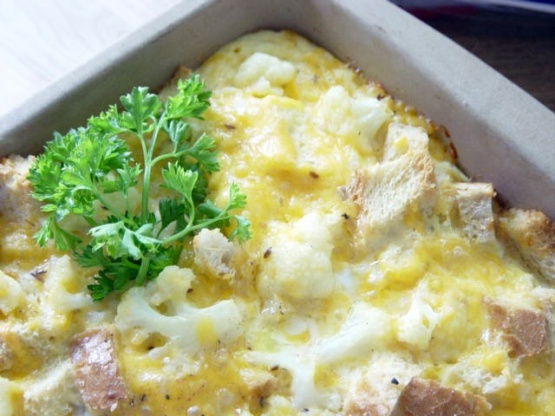 HeHe....I had to post this recipe just because the name was so amazing...plus it sounds pretty good! I think it means Cauliflower Rye Casserole. It is from Sundays at Moosewood.

We liked this a lot. I skipped the caraway seeds because I used seeded rye and I thought the kids might not like so many. I also skipped the butter because I steamed the cauliflower. Will make again.
At least an hour before cooking, pour the beer into a shallow bowl until it becomes flat.
Dry the bread cubes on a baking sheet in a 300F oven until they are crisp but not browned, about 15-20 minutes.
Saute the cauliflower in the butter with the carraway seeds until just barely tender.
Combine the bread cubes and cauliflower with the grated cheese.
Spread the mixture into a buttered 2-qt casserole dish.
Mix the eggs, mustard, coriander, and black pepper in a blender or by hand with the flat beer and pour the mixture into the casserole dish.
Bake at 350F for 30-45 minutes until puffed and golden.