byZula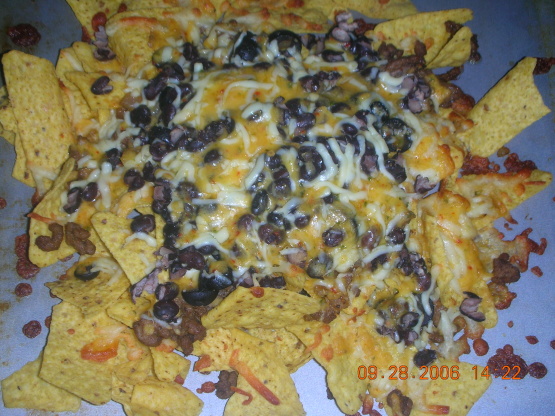 These nachos were fashioned after the ones served at Gameworks. They are so fantastic that you'll be craving more when you're finished! Don't be afraid, you can definitely make this the main course.

Top Review by byZula
This was really nice and my family loved it! I added a hamburger and onion mixture with some garlic and seasoning. Very filling! The only thing I'd do differently is to add some more moisture since it was pretty dry. Maybe a meat sauce similar to taco fillings and some extra cheese. Anyway, thanks for the recipe!!
Mix tortilla chips together and pour into a shallow baking dish.
Top with cheeses, jalapenos and olives and bake in a 325 degree oven until cheese is melted.
Remove from oven and place onto a platter. Top with black beans, sour cream and guacamole. Serve with a side of salsa for dipping.
*** For black beans, you can used canned black beans, add seasoning (salt, pepper, and garlic) to taste and low boil until tender. Put these onto the nachos while they are still hot.
**** You can also top these nachos with chicken, steak or shrimp for an even heartier dish!