mbekkum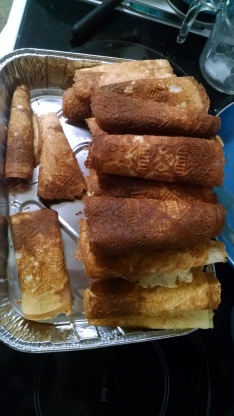 My DD got this recipe from her GM when she was visiting last year. They made these together then GM gave DD the krumkake iron to take and make them at home.

A very yummy krumkake recipe. Quick and easy. The ingredients are always on hand. I forgot I didn't have Cardamon, but still excellent results. If you can let it sit a little while they roll much easier, or my nerve endings in my fingers are gone.....maybe
Beat eggs well.
Add sugar, butter, and cardamom to the eggs. Beat.
Add Flour and milk, alternately, and beat until smooth.
Follow directions for the Krumkake iron on how to cook them.