Chef m.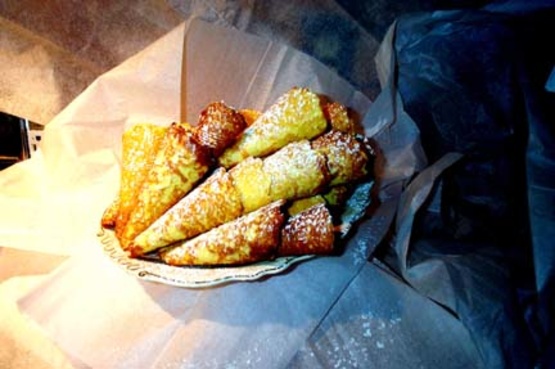 We have this every Christmas, My grandmother always made these along with lefsa and sundbakkels.

A very good recipe for Krumkake. I used almond extract as my preference. My daughter and I made them today for Mother's day. Got lazy and made the flat version. So crispy and not too sweet. I might add just a pinch of salt next time to brighten the flavor.
Mix ingredients well.
Spoon approximately 1 T.
onto ungreased, medium heat, preheated Krumkake Iron (Find at specialty stores for about$65. 00) Cook about 1minute, flip cook another 30 seconds until lightly golden brown.
While warm roll into a cone shape.
(If you don't have the rolling tool, try a clean clothes pin.) These are very delicate and tasty cookies, they are very pretty with a design from the iron.
If desired, sprinkle with powdered sugar or fill with whipped cream (Ready Whip makes this easy) Enjoy!