awalde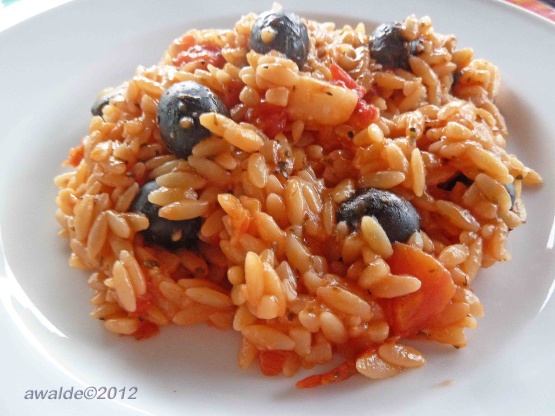 Kritharáki is a form of pasta, in the shape of a large grain of rice, sometimes known as risoni. In our holiday apartment we had only one pot, so that we had to find the way to cook the pasta and the sauce at once using all we found useful.
500

ml water

250

ml greek local wine (or some dry rose wine)

500

g tomatoes, in cubes

1

teaspoon salt
1⁄4 teaspoon pepper

1

tablespoon oregano

4

tablespoons ouzo

3

tablespoons olive oil

200

g black olives, pitted

500

g pasta, kritharaki kind (or any small sized pasta)

150

g kefalotiri, cheese in small cubes (or parmigiano)
Heat the water, the wine, the tomatoes in a large pot.
Add salt, pepper, oregano, ouzo, oil and chopped olives.
When all is boiling add the kritharáki.
Continue to cook until soft, if it is necessary add some water and a little bit of wine.
Just before serving add the cubes of cheese and serve when the cheese is semi fused.