Kremidotiganites - Greek Onion Fritters!
Pneuma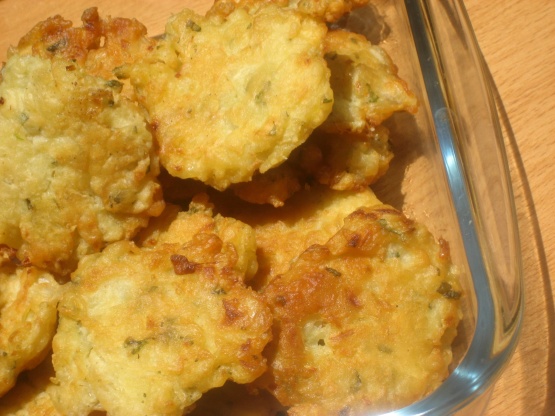 This is a recipe for the traditional Greek way of making onion fritters -- they are super tasty & easy to make.
1⁄2 kg onion, finely diced
1⁄2 kg flour
1⁄2 cup of fresh mint, chopped
oil (for frying, sunflower or vegetable)
salt and black pepper
In a bowl, mix well the onions, mint & flour. Add salt and pepper to your taste.
Slowly mix in enough water to make a thick batter.
Heat the oil in a deep frying pan. Drop teaspoons of batter into the oil. Fry until golden brown. (The oil should be the temperature you need to fry chips etc).
Drain the fritters well on kitchen towel and serve hot.