Kree's Baked Macaroni and Soy Cheese
Kree6528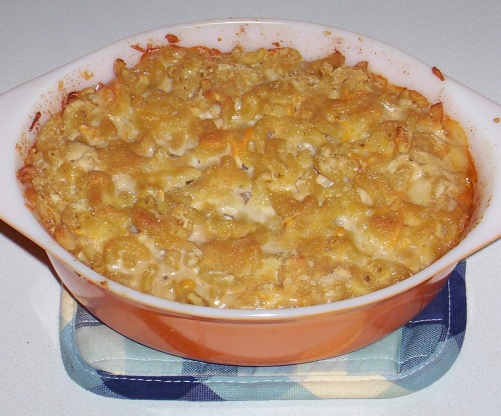 Even my dairy-eating parents love this recipe! It's a conglomeration of several baked mac and cheese recipes that I have perfected to fit my tastes and dietary needs! This is probably my ultimate comfort food, and it's so easy because there's no stovetop preparation necessary! Feel free to use dairy cheese if you can. I adapted this from some dairy recipes so I know it would still turn out fantastic!

I tagged this for the Healthy ABC game but wasn't exactly sure that my dairy loving family would go for it. On a drive home during a rainstorm my husband mentioned that he would like baked macaroni and cheese. "Funny you should mention that..." so I told him about the tag. Being always ready to try something new, he suggested we hit the health food store to buy the ingredients. Unfourtunately they don't carry the brand you mentioned so I was nervous, but I got what looked the best to me "Soyco brand Rice Shreds." They are soy free but do have the casein and it was supposed to melt well. I used shells (I was out of elbows) and egg whites, and panko for the breadcrumbs. I also used a little vegan parmesean that I bought a few weeks ago but had never tried. This turned out really well! A little bland but frankly most baked mac & cheese is bland to me. Some garlic powder would probably be very good. And the best thing was that my picky 5 year old ate a ton. Getting him to eat dinner is worth more then 5 stars! Thanks for such a keeper, Kree! It's going to go in my all-time favorites.
Preheat oven to 350 degrees.
Cook macaroni according to package directions until al dente.
Drain macaroni and pour into baking dish that's been lightly sprayed with non-stick cooking spray.
Add soy cheese, Egg Beaters, soy milk, salt and pepper; mix thoroughly.
Dot with margarine and sprinkle with breadcrumbs and/or soy parmesan (I also sprinkle this with garlic powder sometimes to give it a little zip!).
Bake for 30-40 minutes or until it is well melted and the top is slightly browned.
NOTE: Some soy cheeses (including Veggie Shreds) contain casein, a milk protein; to make this recipe completely dairy-free you would need to buy a vegan brand.
I'm usually pretty liberal with the cheese; I probably use more like 2 1/4 cups!