Kreatopita (Greek Meat Pie Using Phyllo Pastry)
katii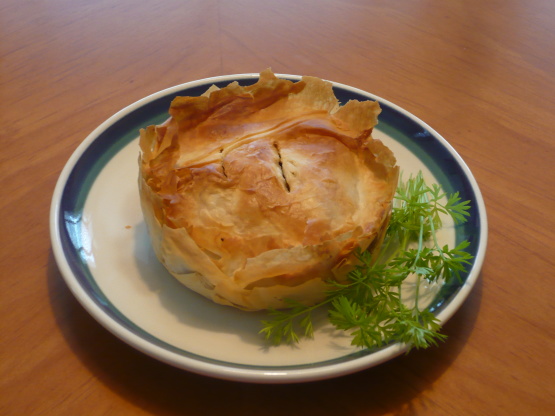 This is a yummy meat pie often enjoyed in Greece. Of course, every household has their own version - this one's mine. The mushrooms are not traditional at all. They're my way of making the pie even tastier and ensuring my kids enjoy a vegetable they wouldn't otherwise eat. This could be served either as a snack (as eaten as street food here in Greece) or as a main, accompanied by a nice salad. Great to bring along, fully-baked, to a picnic or potluck.

What an injustice...you have this for street food and we have sausages on a bun :( This was just great! I scaled it back by half and added a couple of handfuls of chopped fresh spinach with the parsley otherwise made as directed. Using an 8" x 8" pan I found it was done to perfection after 45 minutes in the oven. I'll be making this one again and again. Thank you so much for posting.
In a large saucepan, coat bottom of pan with olive oil and add ground beef (and mushrooms, if using). Cook, breaking up meat with back of spoon, and stirring often until meat and mushrooms are browned and liquid emitted has evaporated (make sure all the liquid has evaporated - you don't want a soggy pita!).
Add onions, garlic, tomato paste, oregano and cinnamon and cook until liquid emitted from onions has evaporated, too.
Remove from heat and allow to cool for about 20 minutes, stirring a couple of times to bring hot filling up (to cool faster).
Add cheese, parsley and eggs to meat filling and combine thoroughly to blend. Taste filling and adjust seasoning to suit your taste.
In a 15 x 10 inch pan (or large pan), layer half the phyllo sheets, brushing each one generously with olive oil (use a pastry brush), before adding the next sheet of pastry.
Pour the meat filling into the phyllo-lined pan.
Layer the remaining phyllo sheets in the same way, over the filling, brushing each one generously with olive oil before adding the next sheet of pastry. When you reach the last sheet (the top one), brush this one slightly more generously than the rest, tuck in any overhang you have neatly into the pie and score pie, lengthwise, into 4, using the tip of a small, sharp knife and making sure you don't cut all the way through the bottom of the pastry (just the top crust and slightly into the filling).
Position baking rack in bottom third of oven and preheat to 190°C (375°F).
Bring your pan next to the sink and run the cold water tap. Wet the tips of your fingers and shake the water onto the pastry. Do this a few times to ensure droplets of water fall all over the pastry (this ensures a crisp crust upon baking).
Bake pie for approximately one hour, until you achieve a deep golden crust. If you have a flat-bottomed oven (no element), do put your pan on the floor of the oven for the last 20 minutes or so to ensure an even crisper bottom crust.
The pita is best slightly warm or at room temperature.
Enjoy!