Krapt and Sausage (Sauerkraut and Smoked Sausage)
sloe cooker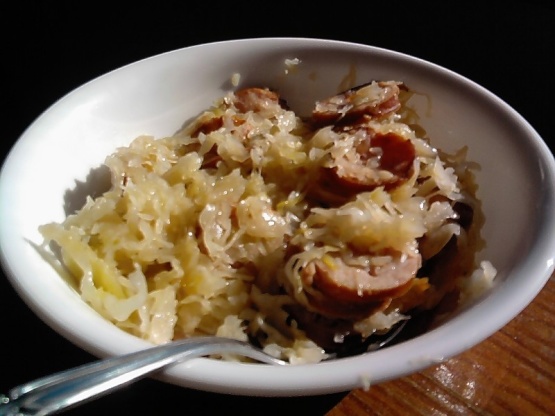 My son was about a year and a half old, my dad was eating leftovers and he barely had enough to satisfy his hunger, and my son indicated that he wanted to eat some of what his granddaddy was eating. Being a good grandfather, he relented and gave into my son's wishes. Being older and FAR more treacherous than my toddler, Dad offered up a bite of the sauerkraut to my son, fully expecting my son to dislike the taste, and thereby saving more of the leftovers to satisfy my father's hunger. Boy, was he wrong! My son was still working on his language skills, and his new favorite food, kraut, was now called "KRAPT!" This is the recipe to the dish my father was eating that night.

Top Review by Bergy
I love sausage & Sauerkraut and this recipe taught me some thing special - When you cut up the sausage in small pieces the flavor intensifies throught the Kraut . I used a Portugese Linguica Sausage. I cut the recipe back to using one sausage and serving two people Thanks ATM for posting
Slice Sausage lengthwise and then cut the pieces into half moons as thick or as thin as you would like. Thinner slices create a meatier presentation and thicker slices create a meatier bite.
In a large skillet or a medium pot heat oil and sauté onion and garlic until onion is translucent.
Add sausage and almost sear it.
Add drained kraut, stir and heat throughout.