Kotopoulo Skorthato (Lemon Garlic Chicken With Potatoes)
Bergy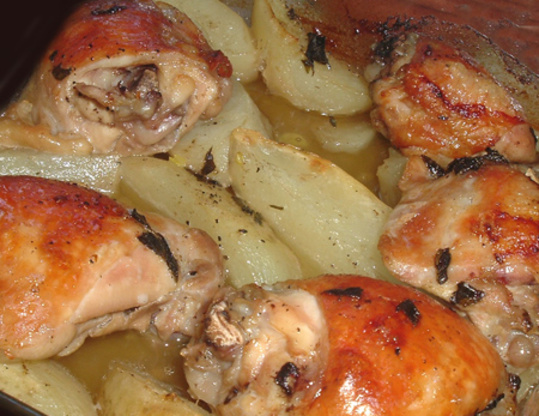 This is such an easy recipe to make - quick and always draws raves - companies coming and this can be made up quickly and would even impress the boss

Easy and superbly flavoursome - which means I'll certainly be making this again. I scaled the recipe back for two and used (skin on) chicken thighs. I still cooked more potatoes than we ate for this meal as I anticipated - correctly - that cooked with so many yummy ingredients that they would be enjoyed over the next few days in other dishes. The only changes I made were to proportionally increase the garlic (as we love garlic) and to use part Recipe #135453 and part white wine instead of water. On the recommendation of other reviewers I turned the potatoes when I turned the chicken so that they were well-flavoured with the amazingly delicious juices. My chicken and potatoes were in the oven for about an hour and 10 minutes. I followed AuntSana's superb idea for reducing the fat: a nifty trick which I'll also be using for other recipes. Thank you, Ravenseyes, for sharing this wonderful recipe!
Preheat oven to 355°F (180°C).
Rinse the chicken and pat dry. Peel the potatoes and cut into quarters, lengthwise. Salt and pepper the chicken and potatoes. Transfer chicken to a roasting pan, and add potatoes, on and around the chicken. Add oregano, garlic, olive oil, and lemon juice, distributing evenly across the pan. Add water and roast uncovered at 355°F for a total of 1 hour and 40 minutes. Half way through (50 minutes), turn the chicken.