Korma Paste (Jamie Oliver)
awalde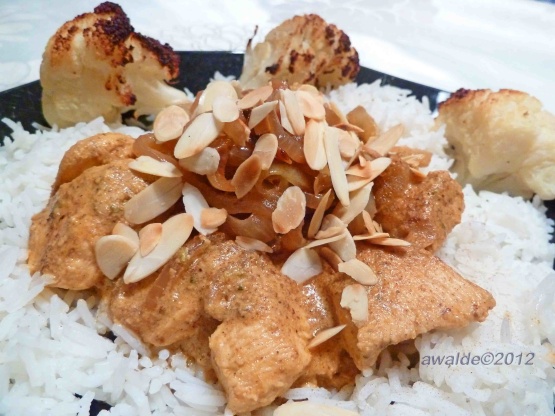 This is based on a recipe from Jamie Oliver's cookbook, Jamie's Food Revolution. He says this is an easy homemade curry paste.

Top Review by awalde
Thanks for this basic Korma recipe, I hope folks will try it and enjoy.
I prepared the recipe with the food processor using whole almonds and frozen fresh cilantro. Soo easy! Thanks the salt I think that this can be stored for some days or perhaps weeks.
I used this Korma with chicken:
Marinate chicken breast in 1 inch pieces with plain yogurt and Korma for 30 minutes. Prepare some fried onions, set aside. Remove chicken from marinate and fry about 10 minutes. Add remaining marinate and fried onion. Cook until done and serve with roasted almonds.
Place a frying pan on medium to high heat and add the cumin and coriander seeds to the dry pan. Lightly toast them for a few minutes until golden brown and fragrant; remove pan from heat.
Add toasted spices to a mortar and pestle and grind until fine, or put them into a food processor and whiz to a powder.
Add ground spices to a food processor, if you haven't done so already, with the remaining ingredients and process until you have a smooth paste.