Korean Style Salad Dressing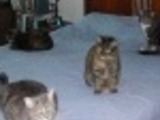 Soy sauce, sesame oil and rice vinegar make the most wonderful salad dressing with a distinctly Asian flair. Use on any crunchy oriental salad (lettuce, red cabbage, shredded carrots, bean sprouts, radishes, etc.), or any salad period. Particularly tasty on cooked asparagus and spinach too. It's important to use a mild vinegar (such as rice). From an article cut out of the food section of the NY Times.
1⁄2 cup soy sauce
1⁄4 cup sesame oil
1⁄4 cup rice vinegar
1⁄4 cup water
2 teaspoons garlic, minced (1-2 cloves)
1 tablespoon sugar (or equivalent sugar substitute)
1 teaspoon red chili pepper flakes, crushed (optional)
Directions
Combine dressing ingredients and whisk together well, or put in jar with lid and shake well. Store unused portion in refrigerator.
Most Helpful
Turned out great but will use a bit less spice. Loved it on our salad with Korean tacos.

This was delicious! I did add some ginger, cut back a little on the sesame oil but otherwise followed the instructions. Thank you for posting.
I made this in hopes it might take the place of a similar marindae/sauce from Trader joe's that they no longer carry. My SIL loves it on cooked asparagus - I can't wait to have her try this. This worked great as a sub!! We will use this often - I'm looking forward to trying it on a cabbage salad next! Made for ZWT6 - Asia.