teresas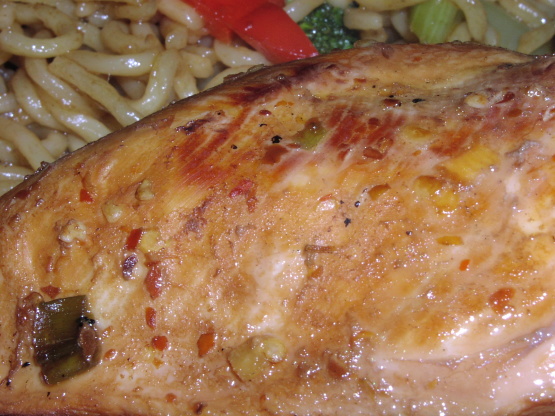 From Weight Watchers "Everyone Loves Chicken" cookbook. It is 5 pts. per serving (1 chicken thigh). Tip: For added flavor, prick chicken all over with the tip of a sharp knife and marinate for 24 hours.
I'm so sorry, but we were not at all impressed with this dish. It was extremely bland--so much so that the plain steamed rice was almost more flavorful than the chicken--the steamed broccoli definitely eclipsed it. I would very, very strongly suggest adding garlic and ginger, possibly other seasonings, too. I think brown sugar instead of sugar would also help, as it has more flavor. I'm really sorry we didn't care for it--if we make it again, we will try some adjustments to see if we like it better. Thanks anyway, Oolala!
Combine the scallions, mirin, vinegar, sugar, soy sauce, 1 tspl. of the oil, and the crushed red pepper flakesin a zip closed bag; add the chicken and seal (removing all the air in the bag).
Turn to coat the chicken; refrigerate, turning the bag occasionally, at least 2 hours or up to overnight.
Lift the chicken from the marinade and pat dry with paper towels.
Discard the marinade.
Heat the remaining 1 teaspoons of oil in a large nonstick skillet over medium heat.
Add the chicken and cook until lightly browned, about 2 minutes per side.
Add the broth; bring to a boil.
Reduce the heat and simmer, covered, turning once, until the chicken is cooked through and the liquid is syrupy, about 10 minutes.
Turn the chicken to coat in the liquid.