Korean Spicy Chicken Wings - Restaurant Recipe!
Marney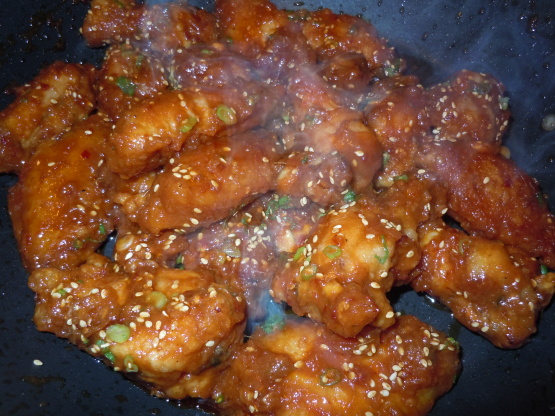 This is a fantastic recipe I came across whilst roaming the 'net! It comes from the owner of a popular Korean restaurant where these chicken wings were the most popular of all his special order dishes. Time to make doesn't include chilling time.

Top Review by Marney
Fantastic recipe! The flavor is amazing, nice and spicy, the wings are really juicy too. I served them with steamed jasmine rice and edamame. I also want to try making them boneless too. Thank you very much for posting and I'm sure I'll be making this for a long time.
Rinse the wings in cold water, then lightly salt and pepper them. Let stand about 10 to 15 minutes. Place wings in a large bowl and pour the milk over them, then place in refrigerator for about one hour, turning three to four times.
For the Stir Fry Sauce: Place the ginger and garlic into a blender with just enough water to liquefy the mix. Pour into a small mixing bowl and add all other sauce ingredient & mix well. Finely chop the green/spring onion and set aside.
Chicken Wings: Discard the milk and let wing section drain until just damp. Heat oil in a large cooking pot. (350ºF or use the bread test) Roll wings in starch and deep fry until golden brown then drain.
Transfer the chicken to a large stir fry pan or wok over medium to medium high heat, add the sauce, and stir fry until all liquid is gone.
Place onto a serving tray and garnish with the green onion and sesame seed. Serve as an appetizer or with sticky rice and ban chan for a meal.