Korean Spicy Chicken and Potato (Tak Toritang)
Cypress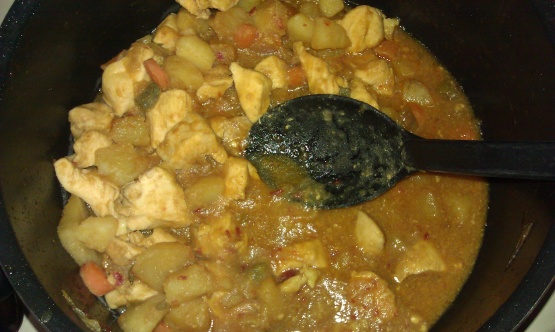 I found this recipe on Allrecipes, submitted by Sarah Kyong and it has 44 reviews! A popular dish! I hope you enjoy! Here's what she says: A very easy meal to make! Chicken drumettes, potato, carrots, and onion simmer in a spicy sauce that goes best with white rice. You can find Korean hot pepper paste in a Korean/Asian market. I haven't tried looking in a grocery store. It's Korean name is 'gochujang'. I have made some changes after reading the reviews. This can also be cooked in a crockpot for several hours.
I made this tonight for dinner and my fiance and I both loved it! Made it mostly the same, except I used chili garlic sauce, garlic powder, sbustituted the sugar with mirin sauce (has sugar in it), added some white pepper, and cooked the veggies in oil before throwing it together to shorten cooking time. I used 1/3 cup soy but my potatoes absorbed most of the salt so I ended up adding a little extra for our taste. I loved the heat level too, it wasn't overly spicy but had a nice bite to it. I will for sure be making it again, since we enjoyed it so much. I have read several reviews on here and allrecipes and it seems to be authentic too which is awesome, so thanks for posting it here!
In a large pot over medium heat, mix the chicken, potatoes, carrots, onion, sugar, ginger and garlic.
Pour in water and soy sauce, and stir in sugar and hot pepper paste.
Bring to a boil, reduce heat to low, and simmer 45 minutes, until chicken juices run clear, vegetables are tender, and liquid has thickened.
You may also cook this in the crock pot for several hours.
The liquid will thicken as it cools.
Enjoy!