Korean Roast Chicken Thighs
PaulaG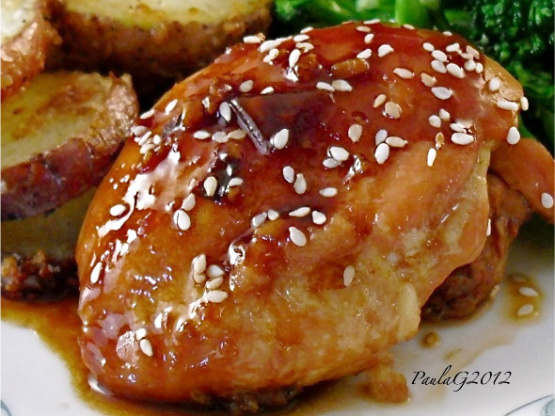 Not sure where I found this recipe, but make it monthly for my family. I have used vegetable oil in place of the sesame oil and it still tastes great.

So simple, quick, and delicious. The green onion is not a must, chopped yellow or white onions work fine. After making this about 10 times, I now put all the ingredients in a gallon size plastic bag the day before and marinate it overnight. I increased the amounts of garlic and ginger. The first time I made it, some of the sauce burned a bit, so I cut back the oven temp to 325-350 and just cook it a bit longer. Delicious every time and never get tired of it. My 16 y.o. daughter's favorite.
Preheat oven to 375 degrees.
Place chicken skin side down in a large baking dish.
Combine the remaining ingredients in a bowl and then pour on top of the chicken.
Bake uncovered for 45 minutes.
Turn the chicken over in the dish and bake for another 15 minutes.