Korean Grilled Meat on Skewers (Bulgogi)
Bergy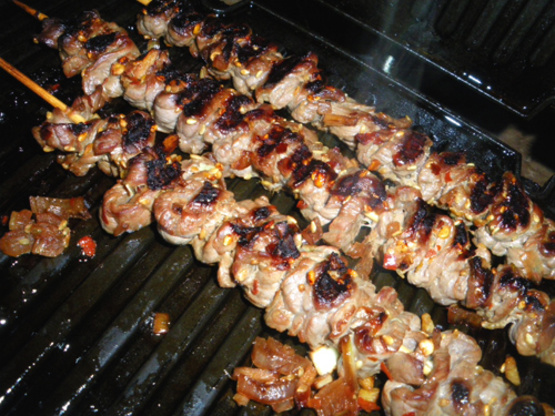 Lots of flavor, I have made this also using pork tenderloin. Soak the wooden skewers in water for half an hour to prevent them burning. Marinating time not included. Freezing the meat slightly makes it easier to slice it thin.

excellent!i have my own recipe for this but i'm always interested in trying new variations. this is very authentic tasting and you definitely need to grill it because those charred little bits add to the flavor. i used tenderloin and marinated it for 1 hour. keep posting petsrus!
Toast the sesame seeds in a frying pan over medium heat until brown, let them cool.
Cut the beef in thin slices.
Mix all marinade ingredients together, add also the sesame seeds, and to this add the beef.
Leave to marinate at least 30 minutes, a few hours is preferred.
Thread the meat on wooden skewers, grill or barbecue a few minutes on each side, using the remaining marinade for basting.