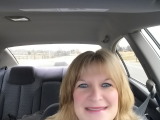 This is a recipe most kids love. I let my kids pick their choice of Kool-Aide and I let them make this recipe. They will eat more of it if THEY make it. Imagine that? ha ha ENJOY!!
1 package Kool-Aid (any flavor)
1 can Eagle Brand Condensed Milk
1 (8 ounce) container Cool Whip
Directions
Mix Kool-Aide and milk in a medium mixing bowl.
Fold in Cool Whip.
When well blended, pour into pie crust.
Chill for at least 1 hour in refrigerator.
Most Helpful
This was good and easy to make. I followed the recipe as written. I was looking for recipes to use up the kool-aid I had laying around. This was a bit sweet for me. It set up nicely. We topped ours with whipped cream.

Yum Yum Gimme Some...
I've been makiing this for a couple of years. I'm so glad you posted it. I wanted to make it for tomorrow, but I couldn't find my copy of the recipe. Thank you so much. This is absolutely delicious, and so very easy. For the best flavor, I always make it the night before. I invert the pie crust cover over the top of it to keep it safe and clean.