Pamela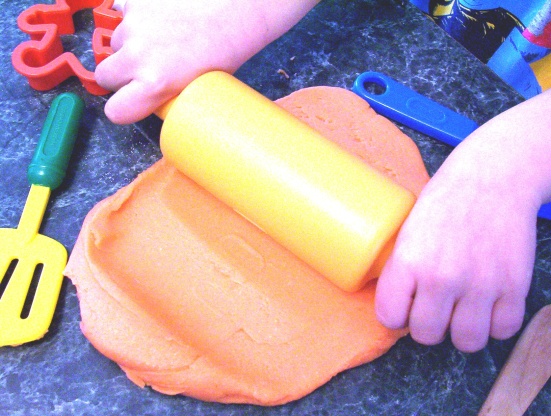 I made this often as a preschool teacher and now make it regularly with my own children. Smells great and you can vary the colours depending on which flavour kool-aid you choose. My little girls current favourite is grape as it makes "purple playdough!" At Christmas we make it red or green and add peppermint extract and glitter! Orange at Halloween and we even found some Halloween coloured glitter.Pick up some seasonal cookie cutters from the dollar store and your all set. Lots of possibilities and FUN!

I made three batches in purple, green, and orange for a Halloween playdate- the consistency was fantastic and the kids had a ball!
Mix dry ingredients, add wet.
Knead until smooth (careful-- it's hot! may take a minute or two before you can really ditch the spoon and get your hands in there!) You may need to add extra flour for desired consistency.
(though I never have had to!) Now grab your cutters and rollers and whatever other playdough toys you like and have FUN!