Kona K's Healthy Oven-Baked Buttermilk Chicken Tenderloins
Kona K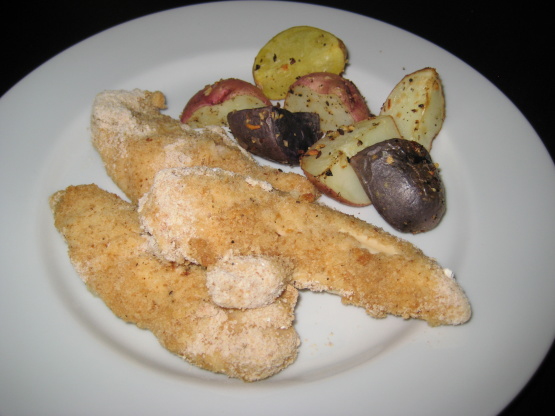 A great recipe to try when you're in the mood for fried chicken, but can't afford all the calories and fat. If you're out of buttermilk, you can just substitute 1/4 C milk + 1 TSP vinegar. I like to spice this up by adding lots of hot sauce. If time allows, I would recommend soaking the chicken tenderloins in the buttermilk, garlic powder and hot sauce mixture in the refrigerator for at least 2 hours. This will make the chicken much more flavorful. (Picture: served with Kona K's Oven-Roasted Baby Potatoes Kona K's Oven-Baked Garlic Baby Potatoes)

I thought the chicken had really good flavor. I used Panko crumbs and doubled the coating because I had a 1lb package of chicken tenderloins. Halfway through I had to mix up another double batch of breading because I ran out. I don't know if it's because of the Panko? The chicken was very moist. I will definately make this again.
Preheat oven to 400 degrees.
Spray baking tray with non-stick cooking spray.
Combine buttermilk, 1 teaspoon of garlic powder and hot sauce in shallow bowl. Stir well.
Combine breadcrumbs, flour, paprika, salt, and pepper in another plate.
Dunk chicken tenderloins in buttermilk mixture, then coat well with breadcrumb mixture.
Spread tenderloins in single layer on baking tray.
Drizzle with olive oil.
Bake for 20-23 minutes, or until chicken is thoroughly cooked.