Catnip46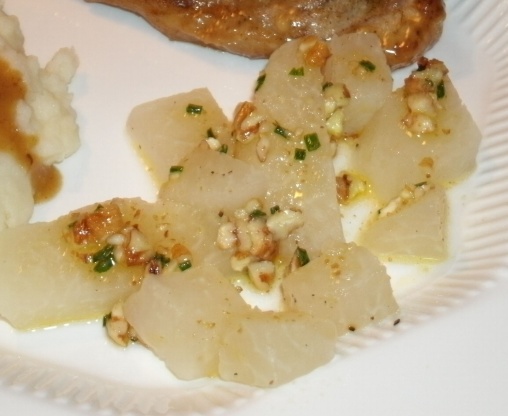 This recipe is from the Sept. 16, 2008 edition of the "Living" section of our local newspaper, "The Democrat & Chronicle" (adapted from "In Praise of Pecans by June Jackson" ). I have never tried kohlrabi, but it has been described as a member of the cabbage family but more mild than its broccoli and cauliflower cousins. The article states "pecans and honey accentuate the vegetable's sweet side". I have not cooked this yet but am eager to try it.

Top Review by Suse40
Just fixed this tonight and it was very good. An interesting vegetable dish. Never having cooked kohlrabi before, I peeled it, like the directions said, but my bulbs were so tender, that I don't think I really needed to peel them. They were a beautiful purple and green combo, so I hated to lose the vitamins in all that color. I also used a sour orange instead of a lemon and the result was terrific. Definitely a keeper.
Bring a large saucepan of water to a boil over medium-high heat.
Add the kohlrabi and carrot and cook for five minutes or until kohlrabi is tender.
Meanwhile, combine honey, pecans, lemon juice, lemon zest and chives in a small bowl. Stir to mix well and set aside.
Drain vegetables and place in a serving bowl.
Top with the honey mixture and butter, stirring to combine.
Serve immediately.
To toast nuts in a skillet: Cook them in a dry skillet over medium-low heat for around seven minutes, turning them occasionally to prevent burning, until they are fragrant and visibly darkened. Then cool completely.