twissis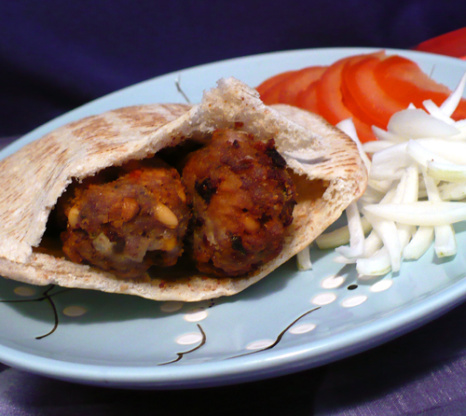 This is a Turkish sandwich based on a recipe from Carole Handslip's book, Step-by-Step 50 Great Sandwiches. When I make my own pita bread to go with them, I give this 5 stars! Serve with a minted yogurt sauce, such as Turkish Cacik, #36126.

Made as written for ZWT6 on June 17th (Icelandic 4th of July) because DH & I had our main meal at noon & wanted something lighter for dinner, but still tasty & substantial enough to be satisfying. These babies are an easy-fix w/all the flavours well-balanced & the pine nuts were esp good for the flavour they added + their textural variant. I liked their use here a lot. I served mine w/my Recipe #355506. This recipe is very forgiving, but the camera tells the tale. About the only error you can make is to shape the meatballs too lrg, tear the pita bread as you assemble the sandwiches & then have to plate the veggies on the side. What I should have done was to halve them & work from there to assemble. Thx for sharing this tasty & easy-fix recipe w/us.
Preheat the oven to 425 degrees F.
Soak the bread in water for 5 minutes, then squeeze dry and add to the next 7 ingredients. Mix until thoroughly blended and malleable. Shape into small balls the size of a walnut, using dampened hands so that the mixture does not stick. Lightly coat in flour.
Shallow-fry for about 6 minutes, turning frequently, until golden brown.
Warm the pita bread in the oven for a few minutes until puffed up, then cut a thin strip off one side of each pita to make a pocket.
Fill pita with onion rings, tomato wedges, and a few Kofte.