Kofta - Ground Beef Kabobs
Leslie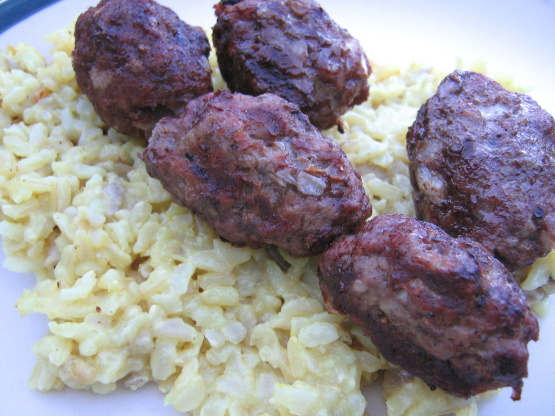 I am posting this for the ZWT 2006. The recipe calls for extra finely ground beef. Ask your butcher or the meat department to run the beef through the grinder one or two extra times. It makes a difference in the recipe - the meat will be smooth and soft. It is best to cook these on flat skewers, not round. They can be baked in the oven or on the grill. This is thanks to the About Web site.

Fabulous! I did not use the skewers like Stacky5. The meat came out so juice and tasty. Thank you very much for this outstanding recipe. I must at our table from now on.
Place Onion and Parsley in food processor, blend till finely chopped then add beef.
Add salt and pepper to taste.
Make small balls out of the mixture and place five balls onto a skewer.
Shape the meat into a cigar shape on the skewer.
Bake at 350 for 45 minutes, or if grilling, grill for 20-25 minutes or until done. Serve with white rice if desired.
Or you can serve on a flatbread or pita bread, without skewers of course. If you really wanna get fancy use a hotdog bun.