christie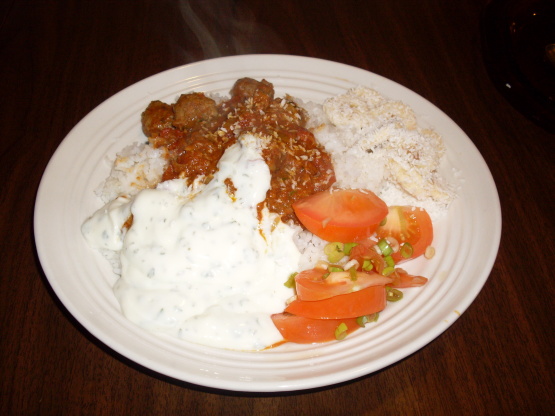 A really lovely meal that we discovered. It is so easy to make and tastes great.
Place the grated onion and 1 teaspoon of the ginger in a mixing bowl and stir in the breadcrumbs, 1/2 teaspoon of garam masala, 1/2 teaspoon salt, pepper, the egg and 2 teaspoons finely chopped mint.
Leave for 5 minutes then add the beef and mix thoroughly.
Stand for 15 minutes and mix again, then shape into balls the size of a walnut.
Heat the ghee in a saucepan and brown the meatballs on all sides.
Remove to a plate, leaving the oil in the pan.
Reduce the heat, add the onion and cook gently until soft.
Add the garlic, the remaining ginger and curry powder, stir well and cook for 5 minutes.
Stir in the tomatoes and stock, return the meatballs, cover and simmer for 30 minutes until the meatballs are tender and the sauce is thick.
Stir in the remaining garam masala and fresh mint.
Simmer for 2 to 3 minutes and adjust the seasoning to taste.
Serve with boiled rice; yoghurt mixed with chopped mint, crushed garlic and sliced cucumber; banana slices mixed with coconut, and sliced tomatoes mixed with chopped spring onions (scallions) and a little vinegar.