Koenigsberger Klops (Meatballs)
PanNan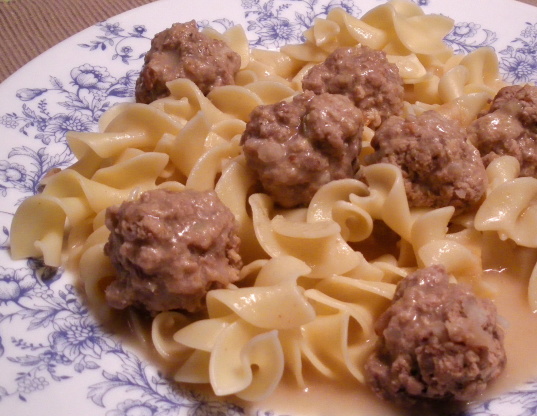 This recipe comes from Melting Pot Potluck. It was put together to announce the arrival of a new pastor and his wife. Origin: Germany.

Top Review by PanNan
This satisfying comfort meal has very mild flavors and is great for young children or less adventurous eaters. Also perfect for those who really love meat and potatoes (or noodles). Ir was very easy to make, and came together quickly. For my tastes, I will probably add some "spice" to the recipe when making it again. Made for ZWT6 2010.
Mix beef, veal, bread, and seasonings. Form into balls. Bring brine to boil (water, peppercorns, celery, bouillon). Add meatballs and simmer 10-15 minutes. Remove with slotted spoon. To 2 1/2 cups sieved brine, add paste of butter and flour. Cook. Add lemon juice. Pour over meatballs. Serve with buttered noodles.