cylin4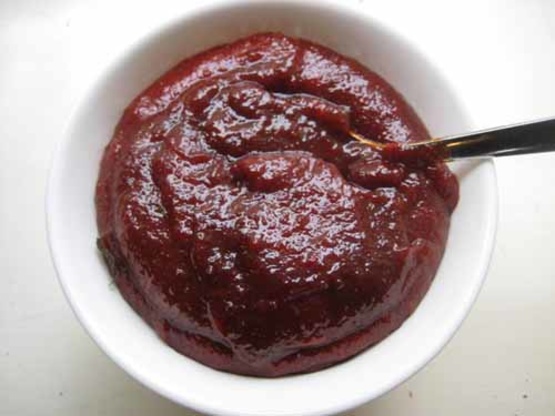 This sauce is used in a few Korean dishes; most notably in Bi Bim Bap, but can also be used as a dip for vegetables, a flavouring for soups and stir-fry and as a marinade for grilled or barbecued tofu. I am new to Korean food, but we have a young Korean girl staying with us for 5 months, so I have been trying Korean recipes. She gave my Bi Bim Bap and 8 out of 10! A Korean friend of mine also tried my Kochujang Sauce and told me that my recipe was better than hers. I found this recipe on asiarecipe.com under the Korean sauces heading. Kochujang is a thick, miso-like paste made of soybean paste, red pepper powder and glutinous rice flour. Some brands are hotter than others.
Mix all ingredients together well.
Keeps a long time in the refrigerator.
This recipe also multiplies well.
If making Kochujang Sauce for Bi Bim Bap; double this recipe for 4 servings.
I usually quadruple the recipe so I always have some on hand in the fridge.