PaulaG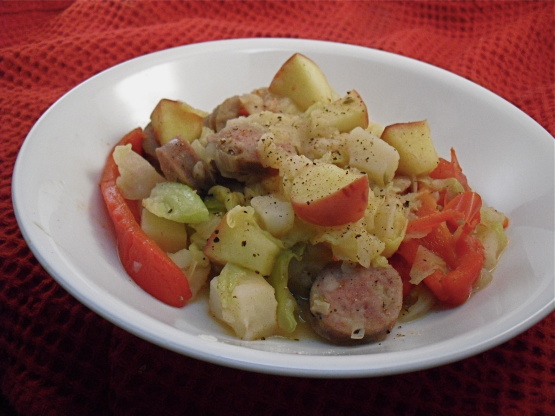 Cabbage, an important garden crop in Atlantic Canada, shines in this hearty main course, which is equally effective when made with kielbasa. Caraway seeds not only add their distinctive flavour, but also help to cut the gasses caused by cruciferous veggies.
Top Review by PaulaG
This made a great dinner and leftovers were perfect for lunch later in the week. I used a chicken sausage and russet potato. I do think I would like to make it again using the sweet potato. I did toss in a red bell pepper for extra color. I loved the combination of flavors and the ease in preparation.
In a large deep saucepan or Dutch oven, bring the combined chicken broth, mustard and caraway seeds to boil over high heat.
Add sweet potato and onion. Reduce heat to medium and cook, covered, for 5 minutes, giving pan an occasional shake.
Stir in cabbage and sausage. Cook, covered, for 15 minutes, stirring occasionally.
Add apple, season to taste, cover and cook another 3 minutes.