Lainey39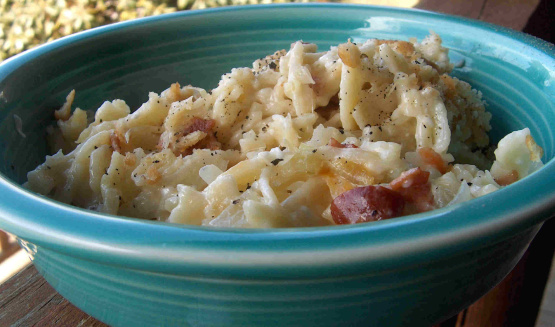 A Pennsylvania favorite. If you like cabbage and noodles, you should love this casserole! The cracker topping gives it a nice crunch!

Very, very good! Nice comfort food meal. As it is approaching St. Patrick's Day, I substituted the bacon for 1/2 lb of chopped cooked corned beef and simmered it with the cabbage and onion. Excellent recipe, Lainey. I'll make this a lot. Thank you!
Fry bacon until crisp. Remove from skillet. Add onions and cabbage to drippings. Cover and simmer until tender.
Cook noodles and drain.
Stir in cottage cheese, Muenster cheese and salt to noodles.
Add bacon and cabbage mixture to noodles.
Turn into greased casserole. Sprinkle with cracker crumbs and with butter.
Bake at 350 degrees for 25 to 30 minutes.
Serve with dollops of sour cream.