ImPat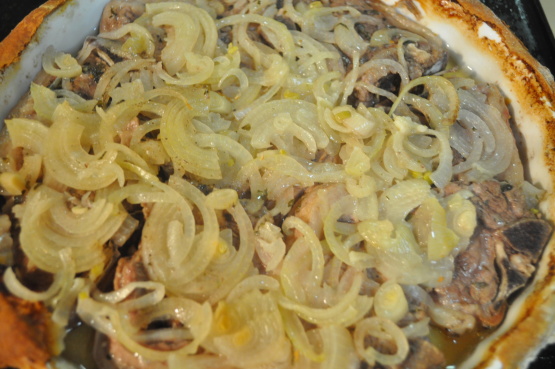 This is a Greek recipe from a Mediterranean cookbook, using marinated lamb steaks or chops that are slow-cooked for an unbeatable, tender flavor. The dish is sealed like a pie, with a flour dough lid to trap in the flavor, but a tight fitting foil cover will work, too. Prep time includes time for marinating.

Top Review by ImPat
I used lamb loin chops bone in and the lamb just fell of the bone and was so tender it melted in your mouth and what lovely flavours were imparted from the marinade, wine and onions. Thank you east coast nellie for a great recipe and to weekend cooker for recommending it, made for I Recommend Tag Game.
Mix together the lemon juice, oregano and salt and pepper and brush over both sides of the lamb.
Leave to marinate for at least 4 hours or overnight.
Preheat oven to 325 F.
Drain the lamb, reserving marinade, and dry lamb with paper towel.
Heat olive oil in frying pan and cook lamb over high heat just until browned on both sides.
Transfer the lamb to a shallow pie dish.
Scatter the sliced onions and bay leaves around the lamb, then pour the white wine and the reserved marinade on top.
Mix the flour with sufficient water to make a firm dough.
Moisten the rim of the pie dish.
Roll out the dough on a floured surface and use to cover the dish so that it is tightly sealed.
Bake for 2 hours, then break away the crust and serve the lamb hot.
Potatoes make a great accompaniment.