KK7707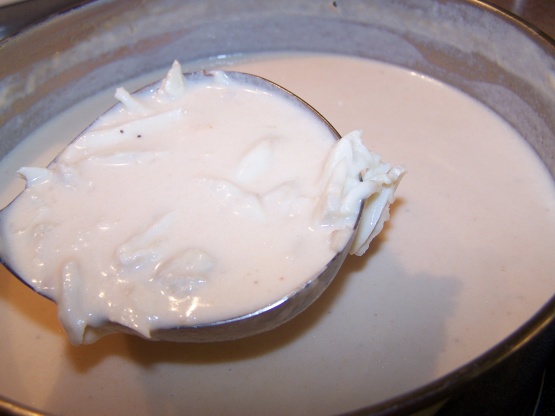 As a Maryland native growing up, crab was always plentiful, available and fresh - usually caught that day. Today I buy fresh lump or jumbo lump crab for this soup, depending on the audience. Using a lesser grade of crab won't give you the premium results you are probably seeking.

This recipe was absolutly amazing. I love cream of crab soup, but I always find the recipies a little plain. This has a smooth blast of flavor. Thank you. I hand picked my crabs which we cooked with old bay and of course I added about a teaspoon of old bay to the soup. Other than that little bit of changes I followed the recipe exactly. Kudos to the creator.
1

lb backfin crab meat
1⁄4 cup butter

2

tablespoons onions, chopped very fine
1⁄3 cup flour

1

(14 ounce) can chicken broth (don't use a heavy stock)
1⁄2 cup dry sherry (very dry sherry should be pale yellow in color)
1⁄4 teaspoon pepper

1

teaspoon salt (to taste)

3

cups whole milk

1

cup heavy cream

8 -9

dashes Tabasco sauce

8 -9

dashes of a less vinegary hot sauce (such as Texas Pete's or Frank's)

1

pinch cayenne (just a very light shake!)

1

teaspoon sugar

1

tablespoon tomato paste (use concentrated, it comes in a tube)
Gently remove cartilage from crab meat.
Melt butter in a 2-3 quart sauce pan.
Add the onion and cook 3-4 minutes - until translucent.
Blend in flour and cook as a roux on medium-low heat until the flour-butter mixture "loosens", which indicates the flour is cooked (about 5 minutes).
Off the heat, stir in chicken broth and sherry, return to the heat and simmer for 3 minutes.
Add salt, pepper, milk and cream, then stir in Tabasco, cayenne and sugar.
Use a little of the liquid to thin the tomato paste and stir it back into the soup.
Cook on med-low heat until thickened, but do not let it boil.
Taste it, and when the cream base is cooked and seasoned to your liking, add the crab.
Heat gently another 5 minutes and serve.
Serving suggestion: make a lightly sweetened whipped cream to dollop on top and serve with a small pitcher of the sherry to add at the table.
A small amount of fresh chopped parsley around the edge of a soup plate is attractive, but don't use too much because you don't want to affect the flavor of the soup.