gailanng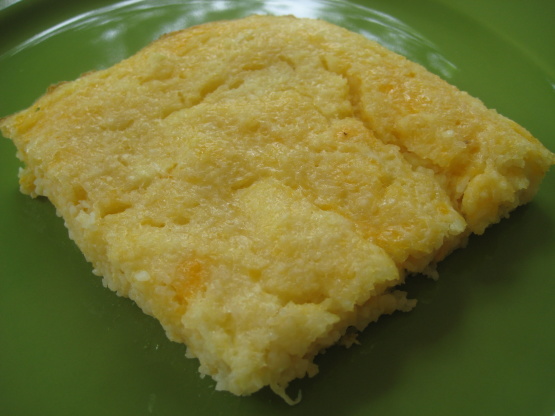 I've been making these forever- wonderful with any meal!

Excellent recipe. I suggest adding 1/4 to 1/2 teaspoon salt to the boiling water and grits. Add a couple big dashes of hot sauce along with butter (1/3 cup butter is ok if you want to cut back some on fats). Good quality sharp or extra sharp cheddar is the classic way to make this, but to change up things try pepper jack. And adding up to a pound of cooked and crumbled sausage or bacon (I've even used chopped pepperoni) is great. I like to sprinkle shredded cheese on top--gives nice appearance when baked.
Heat oven to 350. Bring water to boil in large saucepan. Add grits; return to boil. Reduce heat and simmer for 5 minutes, stirring occasionally.
Add cheese, butter, milk, eggs, and garlic. Stir until cheese is melted, app. 5 minutes.
Pour into a sprayed 2 quart baking dish. Bake 1 hour.